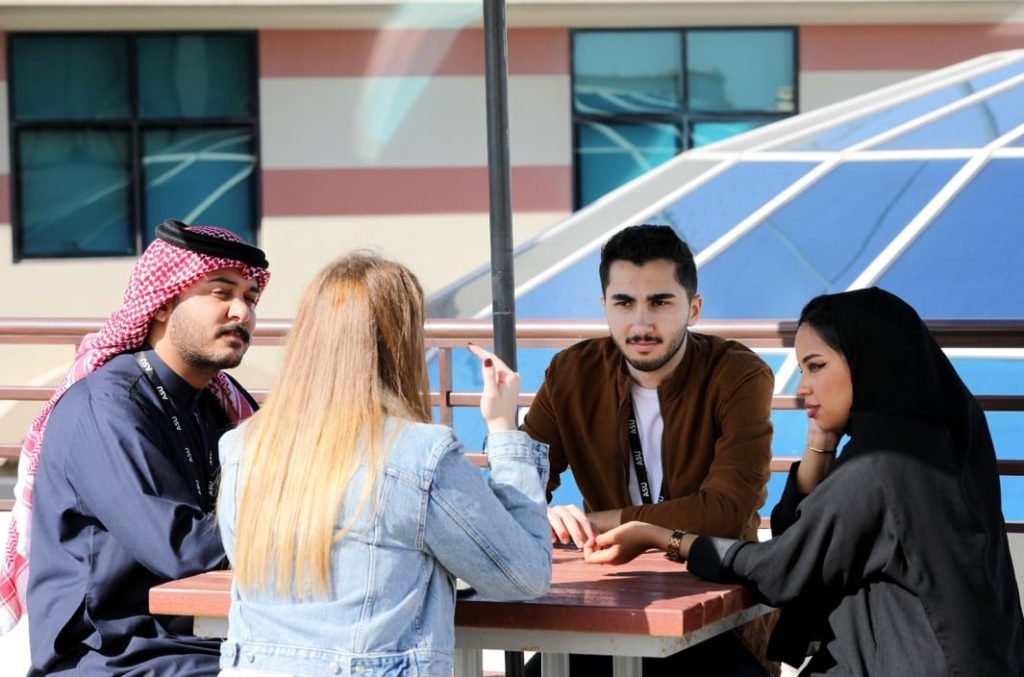 Frequently Asked Questions International
Q1: If I study for a London South Bank University degree at the Applied Science University, which university will award my degree?
For all London South Bank University degree programmes studied at the Applied Science University, the degrees are awarded by London South Bank University in the UK.
Q2: Will my degree be recognized?
Yes. All London South Bank University degrees studied at the Applied Science University are recognized in the UK. Furthermore, all degrees completed at the Applied Science University are recognised by the Higher Education Council of Bahrain and students who complete their studies will be eligible to have their degrees attested when they graduate. For specific national recognition, please check with your national higher education authorities.
Q3: What are the costs of studying at ASU?
Please see the Fees page of this website for details of current fees,
click here
.
Q4: Are there any scholarships available?
Yes. The Applied Science University recognizes academic excellence and provides scholarships for high academic achievement. Please see the Scholarships page of this website for details on current scholarships, click
here
.
Q5: How do I apply to join a London South Bank University degree at the Applied Science University?
You can either apply online by clicking
here
.or visit our campus to fill out the application form.
Q6: Is there a deadline to register?
Yes. The Applied Science University will be accepting applications for London South Bank University degree programmes until August 31st. However, we recommend that you apply as soon as possible to ensure a place on your desired degree programme.
Q7: Can I apply for credit for studies I have already completed?
Yes. If you are currently studying at another university or if you have completed courses at a recognized university, you may apply to transfer to a programme at the Applied Science University, and apply for exemption from courses you have already completed.
Q8: What is the language of instruction at the Applied Science University?
For the London South Bank University degree programmes, the language of instruction is English.
As an international student, you are required to apply for a Bahraini Student Visa. Information about student visas can be found on the Bahrain government's immigration website. For more information, click
here.
The Applied Science University will provide guidance and assistance to all international students who wish to apply. It is important to note that the processing time can take up to two months or longer, depending on the nationality of the applicant. Therefore, you should begin the process of obtaining a visa at the earliest.
Q10: How do I find accommodation?
There is a wide range accommodation options suited to students and student life within a relatively short commute to the campus. The University will provide support to all international students in finding suitable accommodation.
Q11: Is Bahrain a safe place to live?
Bahrain is very safe to live. The crime rate is extremely low and violent crime is rare.
Q12: Do you provide a 'meet and greet' service?
Yes. The university welcomes all international students to Bahrain with a 'meet and greet' service at the airport. Once all formalities have been completed at the airport, the meet and greet team will provide transportation to your accommodation.
Q13: Can you tell me something about student life, student clubs, sports, and other activities?
The Applied Science University has a vibrant social scene and a healthy work/social life balance is promoted through various clubs and the Student Council. Significant events such as International Day, World Health Day, National Day and so on draw huge participation from across the University and the wider society. The University also has a very strong sporting ethos and its football, basketball and volleyball teams (both male and female) lead the rankings of inter-university sporting championships. In fact, participation in sports activities is a major cultural pastime in Bahrain and apart from the sports mentioned above, there are numerous facilities across Bahrain to participate in activities such as running, tennis, cricket, swimming, diving, sailing, kite-surfing and horse-riding. Bahrain also has a rich history and is home to many museums, forts, historical sites and the traditional Souq in the heart of Manama. These are easily accessible and are open throughout the year. For motor sport enthusiasts, there is the Bahrain International Circuit, which host various motor-sport events throughout the year including the Bahrain Gulf Air Grand Prix. For those who enjoy shopping, or a stroll through a shopping mall on a hot afternoon, Bahrain has many ultra-modern shopping malls, which offer international retail brands, restaurants, supermarkets and other services.
Q4: What is the cost of living?
As with all cities throughout the world, the cost of living is dependent upon personal choice and lifestyle. As a guide, we provide some information about Accommodation, Food and Entertainment. Accommodation The University assists all international students with finding suitable accommodation. In general, rental costs range from around BD 200-300 for shared accommodation up to BD 700 for an individual fully furnished (inclusive of utility bills) 2–3 bedroom apartment. Food Bahrain offers many dining opportunities including inexpensive local fast food outlets, international fast food restaurants, international coffee chains and high-end restaurants. In general, BD 7-8 should be enough to provide three meals (breakfast, lunch and dinner) if eaten outside. Food items can be purchased from hyper-markets which are located in the lager shopping malls, or from smaller supermarkets and convenience stores located in all neighbourhoods. Entertainment Many museums, forts, and historical sites in Bahrain are free to enter. Various cultural events also take place throughout the year any many of these are also free to attend. For entertainment activities such as watching a movie, a cinema ticket costs about BD 3.500 at Seef mall or Bahrain City Centre Mall.
Q5: What are the transportation options?
Bahrain has a public bus service that connects various parts of the island. However, the best option for getting around is by taxi. Taxis can be hailed on the streets or taken from taxi ranks at shopping malls, major hotels, or from the airport. The most popular metered taxi companies are: Speedy Motors Bahrain Limo  Arabian Taxi Of course, you can also download the Uber or Careem Apps to book a taxi.
Q16: What are some of the campus facilities?
The University is housed in a new purpose-built campus covering an area of 24,000 sq. meters. The campus consists of three main building including the main Academic Building with six floors and a ground floor featuring the front yard and entrance hall, the Deanship of Admissions and Registration, cafes, lounges and a high-tech library. The other buildings include the Administrative Building and the Technology Centre. The academic building is also home to design studios, lecture halls, computer labs, language and specialized laboratories, as well as a state-of-the-art lecture theatre/auditorium with 320 seats. The university has several sports facilities including tennis, handball, volleyball, basketball and badminton courts. An indoor games area is also available with pool tables, billiards tables, foosball tables, and electronic games consoles. In addition to cafes, there is a large cafeteria, which serves a range of meals from the morning until early evening. The University also has a health center staffed by a full-time nurse.
Q17: Do you offer English language courses?
Yes, as part of your first year of study you will complete two semester-long English courses designed to improve your academic English skills. The University also has a dedicated English Language Support Unit to assist all students in developing their English language skills.