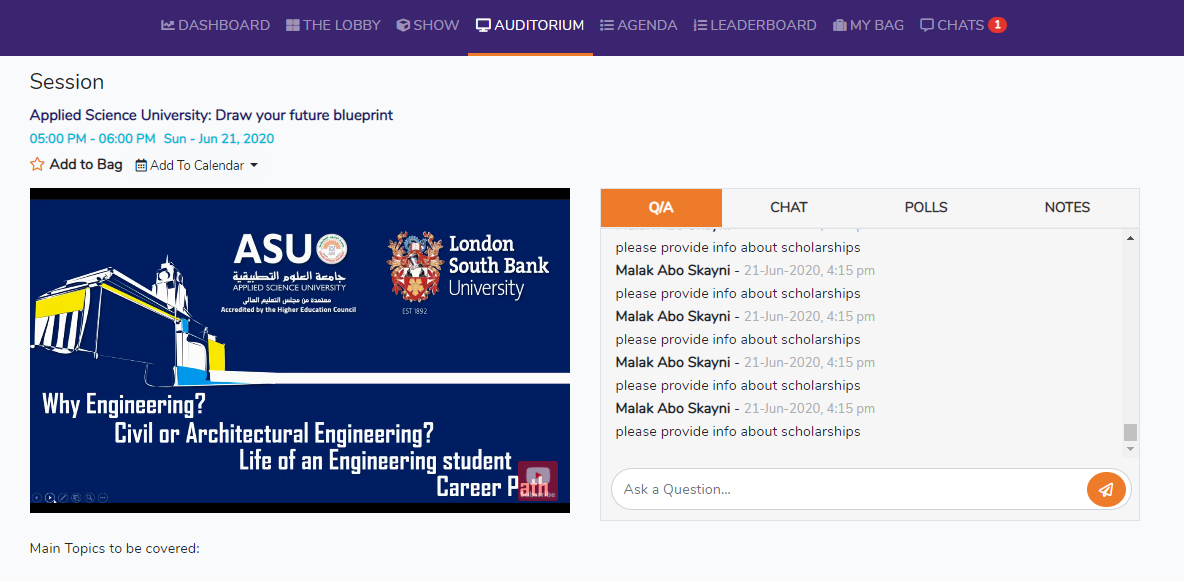 University Participation in Univer virtual fair
An international virtual fair being hosted by the "Univer," which it had our University as a participant. During such difficult time, this global platform was designed to gather universities, schools and other educational institutions from MENA and all over the world, by allowing visitors from different professional and educational backgrounds to browse through these platforms, select each and every institution who are participating in this virtual fair, chat and ask related questions, where each University had its section, webinar, and soft booth.
Apart from the participation, our University had its own virtual dashboard that displayed our marketing materials, chat rooms and webinars, which was operated by Ms Ruqaya Mohsin, Mr Ali Mohamed, Mr Baha Karaimeh, Mr Yusuf Alghawi and Mr Abdulhameed Baqi from the Directorate of Marketing and Public Relations, Dr Islam from the college of Engineering and Mr Noel from the foundation department as representatives.
As our University and programmes was listed in a virtual dashboard. The fair therefore, witnessed quite good numbers of visitors. They had the opportunity to ask many educational related questions openly with our team, including many important subjects during the Q&A that have been covered during the fair explaining the reasons for choosing our international degrees, exploring the college and life of Engineering students, career path, Student Support services, the enrolment procedures, specialization variety, scholarships and other relevant topics such as whether they should study in the Kingdom of Bahrain.