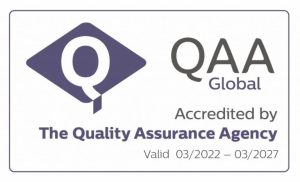 ASU has achieved the global accreditation from the Quality Assurance Agency for Higher Education (QAA) in the UK. QAA is an independent quality body and a global leader in quality assurance for higher education.
The accreditation is awarded to institutions who have passed QAA's International Quality Review (IQR). The IQR was developed to provide institutions outside the UK with an independent peer review leading to accreditation by the QAA, and thus, help institutions demonstrate that their quality assurance systems conform to international standards.
The IQR uses the Standards and Guidelines for Quality Assurance in the European Higher Education Area (ESG) to assess institutions, specifically, ESG Part 1: Standards and Guidelines for Internal Quality Assurance, which includes 10 standards:
Standard 1.1 – Policy for Quality Assurance
Standard 1.2 – Design and Approval of Programmes
Standard 1.3 – Students-centered Learning, Teaching and Assessment
Standard 1.4 – Student Admission, Progression, Recognition and Certification
Standard 1.5 – Teaching Staff
Standard 1.6 – Learning Resources and Student Support
Standard 1.7 – Information Management
Standard 1.8 – Public Information
Standard 1.9 – On-going Monitoring and Periodic Review of Programmes
Standard 1.10 – Cyclical External Quality Assurance
This two-year long process led to achieving the accreditation for a period of five years, with a review report prepared by the QAA showing recommendations and good practice. ASU has prepared an action plan addressing the recommendations and has placed actions to ensure that the good practice is maintained. The report and the action plan can be found on QAA's official website, and also by clicking the below buttons.