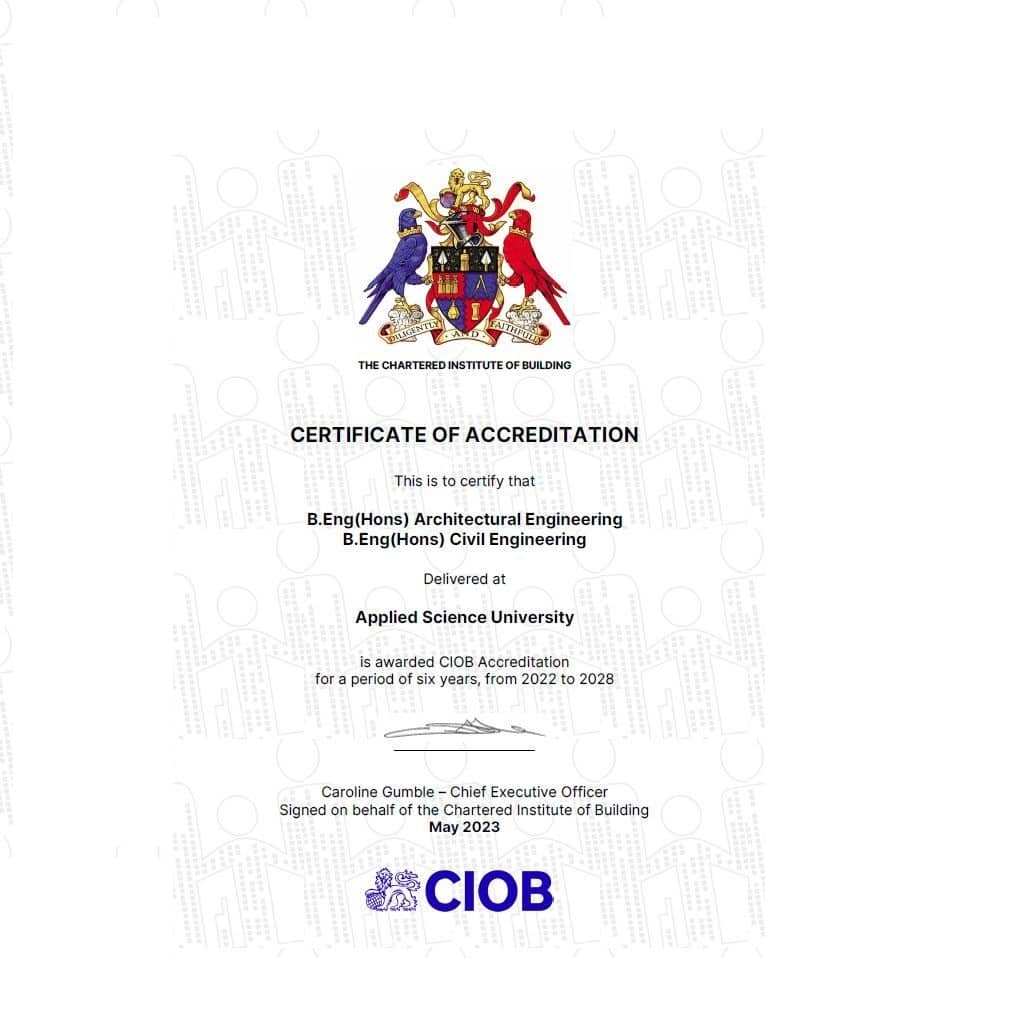 Accreditation of the Civil and Architectural Engineering Programmes  College of Engineering
We are pleased to announce that the Department of Civil and Architectural Engineering at Applied Science University (ASU) in Bahrain has received accreditation from the Chartered Institute of Building (CIOB) for its Architectural Engineering and Civil Engineering undergraduate programs until 2028. This is particularly exciting as ASU is the only university in Bahrain offering CIOB-accredited programs.
The CIOB's accreditation is a significant benefit to ASU, as it provides international recognition and a mark of quality and strength for its engineering programs. Accredited program providers gain access to one of the most influential networks of managers and leaders in the construction industry. This accreditation ensures that ASU's Civil and Architectural Engineering programs stand out in a competitive market. Undoubtedly, students also appreciate the importance of studying an accredited degree from an internationally renowned institute, one of the largest institutes worldwide in the construction field. The CIOB is a long-established bridge between academia and practitioners throughout its global network. ASU can utilize CIOB's local operations in Bahrain to develop relationships with the industry. It is worth noting that ASU-accredited programs will enjoy opportunities to submit research and promote initiatives through CIOB's industry-leading UK and international publications. Additionally, the accredited programs are listed on the CIOB website, and ASU can use the CIOB brand for enhanced international recognition of its teaching and learning approaches.
Students also benefit greatly from the CIOB's accreditation. They gain free access to CIOB's knowledge and associated services, including one of the world's largest online libraries for construction management. Students who graduate from ASU's Architectural and Civil Engineering programs have a clear pathway to a professional qualification with the CIOB. Moreover, opportunities exist for students to enter CIOB competitions, scholarships, and research initiatives. With an accredited CIOB degree from the Architectural and Civil Engineering programs at ASU, students have the opportunity to join CIOB's Tomorrow's Leaders network, a powerful platform for young professionals to connect with each other and industry influencers.
The College of Engineering at ASU has already begun collaborating with CIOB through its local chapter in Bahrain, headed by Mr. Christopher Core. They have conducted workshops for students to join as student members and benefit from the available resources at CIOB. Additionally, meetings with UK technological companies have been held to introduce new software for enhancing the curriculum of the ASU programs to meet the demands of the marketplace.