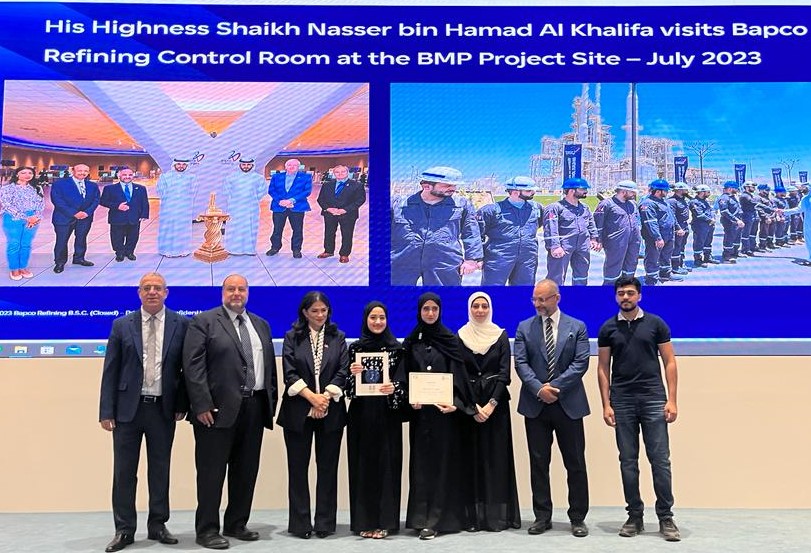 Top Prizes for Two Engineering Students (Bahrain Society of Engineers Best Graduation Project Award)
Two distinguished graduates of the civil engineering programme at the College of Engineering, Applied Sciences University (ASU), which offers dual award British programmes in collaboration with London South Bank University (LSBU), successfully achieved the first and second prizes in the fourth edition of the annual competition hosted by the Bahrain Engineers Society. The graduates excelled in the category of the best civil engineering graduation projects, making ASU the only private university to secure both top positions in this prestigious award.
Such projects play a critical role in supporting the efforts of the Kingdom of Bahrain's government in managing the challenges posed by climate change, especially in areas concerning extreme drought and flood scenarios. They also addressed pressing issues concerning future energy supply and coverage limitations, compounded by rapid economic growth and extensive urban expansion, which led to significant land-use changes.
The graduate Reema Kameshki, who secured first prize for her project titled "Stormwater Management: Design and Flood Modelling of Open Channels Including the Road Culvert Design – Design Practice Based Project", addresses the issue of urban floods and focuses on designing a resilient stormwater management system that promotes environmental resilience to climate risks. This project's aim centres around a challenging stormwater management infrastructure implemented in the Al Lawzi area, which includes Bahrain's only natural lake, "Al Lawzi Lake." As this lake, in particular, collects stormwater runoff from the surrounding Hamad Town area, utilizing interconnected open channels and under-road culverts.
To begin her project, Reema conducted extensive research, including press media checks, site investigations, and interviews with local authorities and field experts. This allowed her to understand the previous incidents of urban floods in the area and assess the performance of the existing stormwater management system. Subsequently, Reema carried out a series of hydrological and hydraulic assessments to evaluate the system's capacity and performance. Through the simulation of probabilistic flood scenarios corresponding to different extreme rainfall events with return periods of 10, 20, 50, and 100 years, she aimed to identify weaknesses in the system and propose optimized upgrade measures.
While Hala Alnameh, who achieved the sconed prize, her project Titled: "Towards Sustainable Building Design: Rainwater and Greywater Harvesting System Design for Commercial Buildings" underscored its contribution to developing environmentally responsible solutions for commercial buildings, promoting water conservation and resilience in different operational scenarios. The goal is to achieve the maximum collection and reuse of water and to prioritize efficient water management. She designed and optimized rainwater harvesting and greywater harvesting systems for two commercial buildings: the Electricity & Water Authority (EWA) and the Applied Science University (ASU).
Hala's work, nevertheless, involved site reconnaissance, data collection, and analysis to estimate water consumption and greywater production rates, in addition to expected amounts of stormwater runoff corresponding to different rainfall scenarios of different probabilities of occurrence. She designed system architectures and optimized them for various operational scenarios, including normal working days, low-activity days (example: during the COVID-19 lockdown), and high-demand days with high water usage. She also proposes suggestions and recommendations to promote public awareness and encourage implementing green solutions for water collection and reuse.
Dr Rouya Hdeib, Assistant Professor in the Department of Civil and Architectural Engineering at ASU, was the project supervisor for Reema Kameshki and Hala Alnameh, highlighted that the graduates have showcased a deep understanding of the importance of sustainable development and the urgent need for climate change adaptation. Their work had successfully tackled the challenging concepts within civil engineering topics and concurrently contribute to the realization of Bahrain's Vision 2030. Their work also aligns with several Sustainable Development Goals, including (SDG 6: Clean Water and Sanitation), (SDG 11: Sustainable Cities and Communities), and (SDG 13: Climate Action).