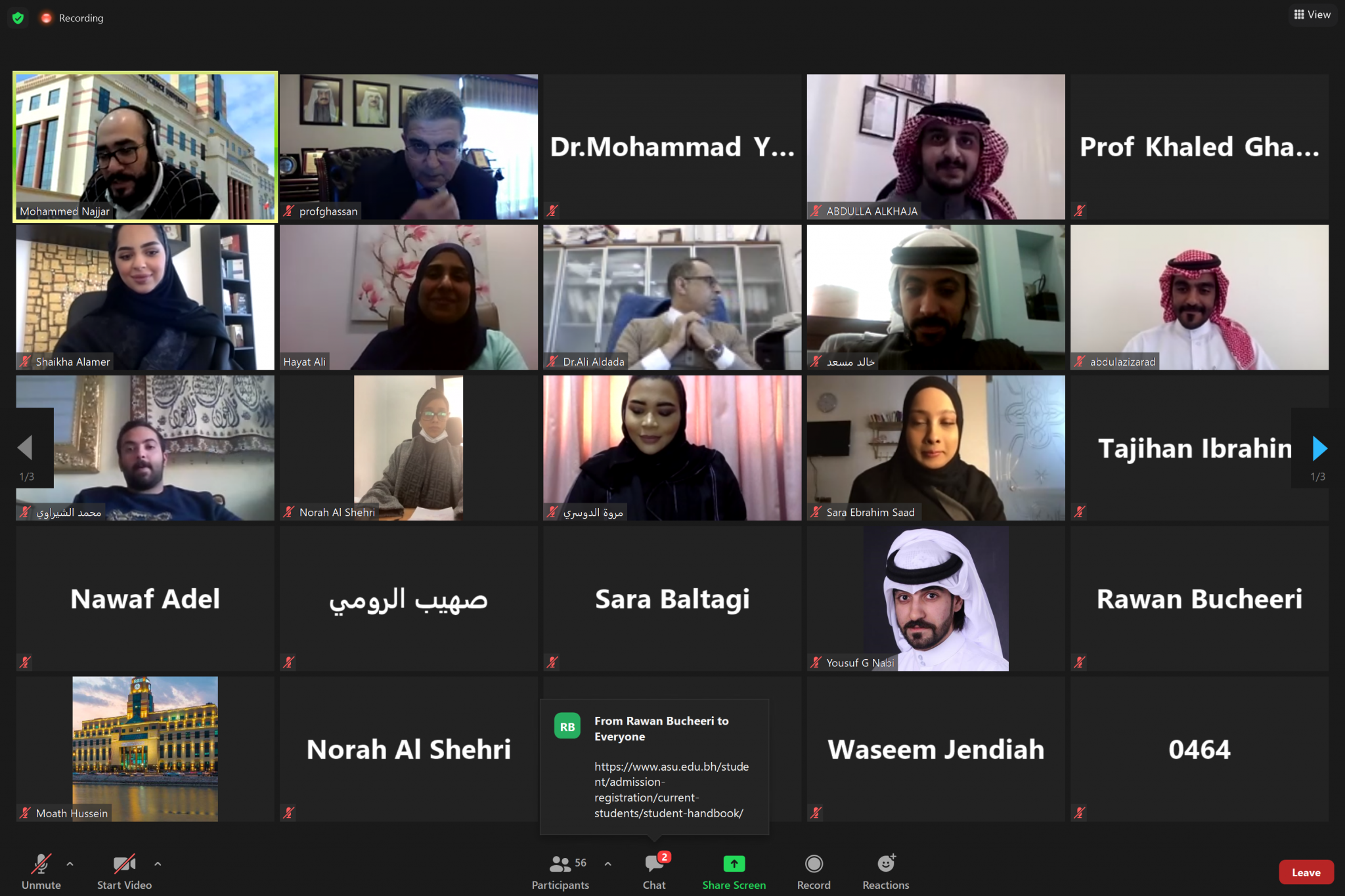 The University meets its new students virtually as part of the Orientation Day
Under the patronage of Prof. Ghassan Aouad, President of the University, the Deanship of Student Affairs held orientation day activities for new students through virtuall communication technology to preserve the safety of students, and in compliance with government directives in achieving social distancing standards in light of the exceptional circumstances in the Kingdom of Bahrain related to combating the spread of the new Corona virus (COVID-19), in the presence of the President of the University, Vice Presidents and a group of senior management members.
The Orientation Day comes on the occasion of the start of the second semester of the academic year 2020/2021, as it usually takes place at the beginning of each semester to prepare the new students and introduce them to the available services, regulations and instructions that are important to them.
The President welcomed the students and attendees, stressing that the University puts all its capabilities and facilities at the service of student, calling on them to take full advantage of these capabilities and services that the university provides for them.
The President also noted that with the continuation of the exceptional circumstances in the Kingdom of Bahrain and the world related to the outbreak of the new Corona virus and the change it imposed on the world in terms of work, education and communication between people, the University was keen on getting creative to facilitate the educational journey for its students through a series of digital and electronic services that help them complete their educational attainment and benefit them in their studies, indicating that the University uses now technology in everything that would serve its students and ensure their safety.
Prof. Ghassan Aouad reiterated the University's keenness to support students and assist them in their academic career and empower them to deploy their energy and creativity by involving them in the various activities that the University continuously holds.
For her part, Dr. Hayat Ali, Acting Dean of Student Affairs, indicated that the Deanship seeks to serve students and assist them in the various stages of their studies at the University in a way that benefits them and helps them in their educational achievement through their continuous support and guidance from their entry into the University until their graduation.