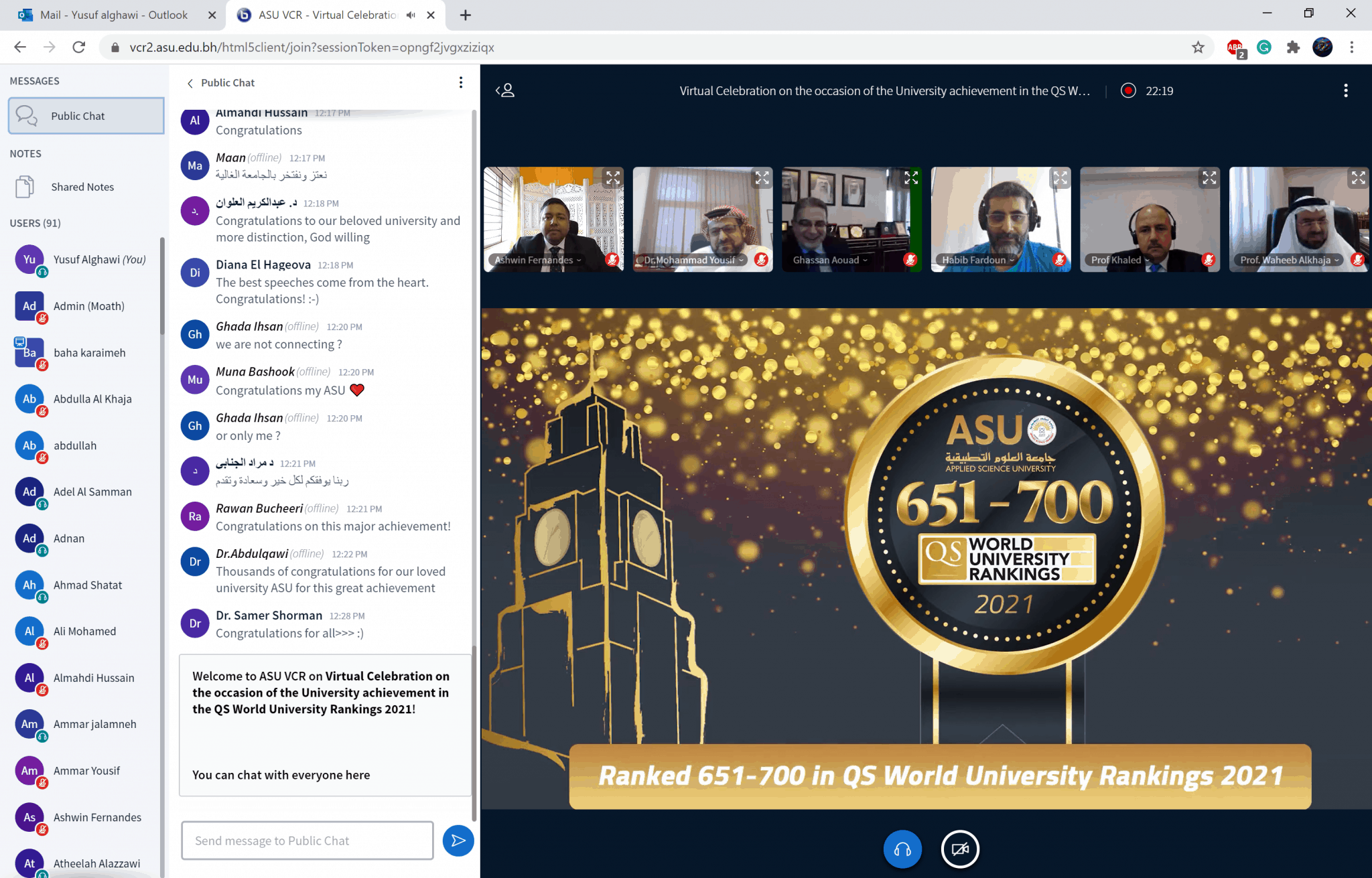 The University celebrates virtually the achievement of new QS World University Ranking
A virtual celebration has been hosted under the patronage of Prof Waheeb Al-Khaja, the Chairman of the Board of Trustees, for achieving the new QS World University Ranking 2021. ASU is now ranked 651-700 among the top 1000 out of 5500 universities in the world; thus, becoming the first private university in the Kingdom of Bahrain to achieve this superior position and making it one of the best universities in the world. This with accordance to the annual publication of university rankings by Quacquarelli Symonds (QS), and it is one of the world's most distinguished university ranking organizations.
Therefore, this virtual celebration witnessed Prof Waheeb Al Khaja; Prof Ghassan Aouad, the University President; Dr Ashwin Fernandes, The Regional Director for QS Quacquarelli Symonds in Middle East, North Africa & South Asia; CEO for QS IGAUGE Rating System; including both the University academic and administrative members. This even covered also the honoring moments of QS certificate handover, which was virtually presented by Dr Ashwin to the University President.
In a speech, Prof Aouad stated that this achievement is a reflection that translates the university's commitment to nurturing a culture of innovation and academic excellence, which is in line with the vision of the educational future in the kingdom of Bahrain and its global competitiveness.
He also congratulated both Mr Sameer Nass, the Chairman of the Board of Directors and Prof Waheeb Al Khaja, the Chairman of the Board of Trustees, along with all the members of the BOT for their generous care and support for the University to achieve this ranking.
Dr Mohamed Youssef, VP for Administration, Finance and Community Engagement, expressed his happiness on this achievement, highlighting the University's successful strategies that helped maintain its high educational and scientific standards at the international level.