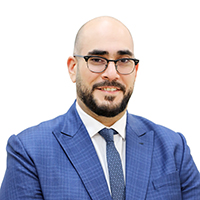 Dear Students,
It is with a great pleasure to welcome our students to ASU student Affairs website.
The Directorate of Student Affairs follows a student-centered philosophy and hence is fully committed to enhance the University life experience for all ASU students.
The Directorate of Student Affairs and works hard with a great team spirit amongst faculty, staff and students to make the student life experience a success also it provides various opportunities for our students to foster their intellectual and personal development to enhance the overall educational experience at ASU.
The doors of the deanship are always open to listen and support our students with their suggestions, opinions, concerns, issues, and needs.
Our students are strongly encouraged to take advantage of their time at ASU, and to participate in the multiple activities and opportunities organized by the Deanship of Student Affairs; for leadership development, student engagement, volunteering activities, multicultural, social and sport activities. We strive to encourage and support our students to expand their horizons and develop their full potential at ASU and beyond.
Mr.Mohammed Mahmood Rasheed Alnajjar
Director of Directorate of Student Affairs