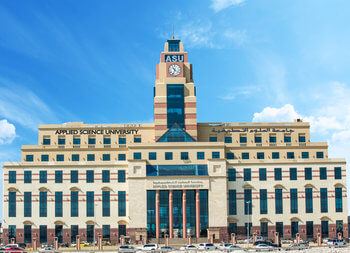 Admissions open for the first semester of the academic year 2019/2020

Applied Sciences University is one of the accredited private universities by the Higher Education Council which announced the opening admission and registration of the first semester for the academic year 2019/2020.
The University Presidents, Prof Ghassan Aouad, stressed that the university is starting its new academic year with a number of great achievements at the local, regional and international level. Such accomplishments included achievement of the academic institutional accreditation that appears at #45 in the QS Arab Region University Rankings, making it the only private university in the Kingdom of Bahrain to be ranked in the Top 50; In the GreenMetric World University Ranking, ASU ranks first at the level of private universities locally, 25th at the Arab level, and 692 globally. The University is also listed in the range of 301+ by Times Higher Education The World University Innovation and Impact Rankings, in a new hierarchy of global institutions based on universities' work towards the United Nations Sustainable Development Goals (SDGs). In addition to the further achievement of the ISO Certification for Quality Management and the achievement of a record number of fellowships and senior fellowships from the Higher Education Academy (UK).
Furthermore, the University Students been noticed by winning the football championship and the best scorer of the tournament. Where they also been awarded for their innovative achievement to develop a smart application (Al-Fazaa) in the annual competition for 2019 Entrepreneurs that was organized by Injaz Bahrain.
On the same period, the University witnessed the opening of the new laboratories for the college of Engineering in a collaboration with the London South Bank University, which were equipped with the up-to-date technologies and modern teaching methods.
The Vice President for Administration, Finance and Community Engagement, Dr Moahmed Yusuf, mentioned that the offered programmes will include; Bachelor degrees in Business Administration, Accounting, Management Information System, Political Science, Computer Science, Interior Design, Graphic Design, Law And Master Degrees in Business Administration, Human Resources Management, Accounting And Finance, Law And Commercial Law. In addition to British degrees of Civil and Construction Engineering and Architectural Design Engineering from the London South Bank University. Where the students should hurry-up for the registration and choose the specialization that suits needs and desires.